Story
Illustrations
Format/Quality
Originality
Read-Aloudability
Justine McKeen Queen of Green
by Sigmund Brouwer
illustrated by Dave Whamond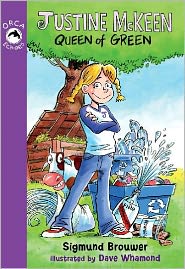 (Click on image to purchase book)
Synopsis:
Meet Justine McKeen. She talks a little too much, bosses a little too much and, as you'll find out, tell the truth, jut not all at once. She's trying to save the planet, one person at a time, and when she decides to get something done, it involves a lot of fun.
This book reminded me of the time my husband and I visited the Corkscrew Sanctuary near Naples, FL. There were alligators and tons of birds. We were able to walk on a boardwalk throughout the Everglades and experience Florida as it was before it was changed into what we know it as today. The amazing part of the sanctuary is that there was not a single insect to be found. The reason for that is that the ecosystem there is perfectly balanced. Everything works together to create a beautiful, and natural, environment.
The reason I was reminded of the sanctuary is because of Justine's passion for being green. There are a lot of facts buried inside this book. What I really loved was that the author added a breakdown of each chapter at the end of the book. There are even instructions on how to make a fire extinguisher out of a soda bottle. Justine McKeen is a very fast talking and intelligent character. She is able to evade the taunts of a bully by ignoring him and steamrolling right over his words with her own witty ideas. This book will create a passion for the environment as well as a passion for science.
Later this week come back for my review of Sigmund Brouwer's Rock and Roll Literacy, a book for parents and teachers.
This book was reviewed using an advanced reading copy.